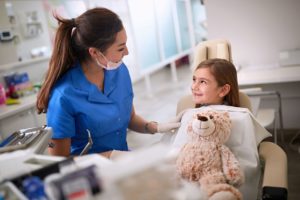 Like everyone else, children should visit their dentist at least twice a year for a cleaning and checkup. These routine appointments usually go smoothly. However, if the dentist discovers that a child needs a bit of restorative work on their smile, the child may be nervous about the procedure. In such cases, sedation may be used to help the patient stay calm and relaxed. But is sedation dentistry safe for children in Abington? In most cases, the answer is yes. This blog post delves further into that important topic.
The Safety of Dental Sedation
There are strict guidelines in place that control how sedation is administered to children. Any well-trained dentist will follow such guidelines to a tee while they are working on your little one's smile. Their diligence minimizes the risks associated with sedation.
Some of the precautions that your dental team might take in order to protect your child include:
Carefully monitoring their breathing and other vital statistics throughout the dental procedure.
Using as mild a dose of sedative as possible.
Considering all relevant health factors to ensure that the child does not have any contraindications that would turn sedation into a larger risk.
Potential Risks and Side Effects of Sedation
Depending on the type of sedation used, a child might feel some mild side effects while the medication is wearing off. For example, they might notice a light headache or a bit of dizziness. While under the influence of oral conscious sedation, children may be quite tired for several hours after their procedure. They might also say or do some strange or silly things. That is normal and nothing to be concerned about.
Severe adverse reactions to sedation are quite rare. If they occur, they are usually identified while a patient is still in the dental office. In such a situation, the dental team will either handle the problem themselves or call local emergency services.
The Rewards Outweigh the Risks
The risks associated with dental sedation are quite low, but the rewards can be enormous. Here are some potential benefits:
A better dental care experience. Children are in their formative years — an uncomfortable dental experience could adversely affect their view of oral care for decades to come. Sedation, on the other hand, can make them feel like oral treatments are nothing to be afraid of.
Faster treatment. A relaxed, calm patient facilitates more efficient care, which means that you and your little one can spend less time in the dental office.
Safer treatment. Some children, particularly those with behavioral issues, may lash out when frightened. Sedation can calm them down and contribute to a better, safer experience for them and the dental team.
Sedation is a safe option for most children. Ask your family dentist about it to learn how it may be able to benefit your little one.
Meet the Practice
The team of experts at Abington Family Dental Care is proud to provide gentle, highly skilled oral health services to patients of all ages. We offer oral conscious sedation to help patients relax during treatments. To learn more about it, contact us at 781-780-2658.