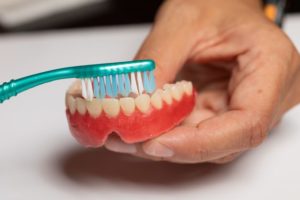 Practically everyone wants a white, bright smile — people who wear dentures are certainly not the exception. Perhaps your prosthetic teeth looked beautiful when you initially received them. After some time, though, you might have noticed the beginnings of discoloration. How can you get rid of denture stains in Abington, and what can you do to prevent them from coming back? Continue reading below to discover some easy tips.
How Not to Whiten Dentures
Before you attempt to whiten your dentures in Abington, you should understand what not to do. Here are some things you must avoid if you want your denture to look and function its best:
Do not expose your dentures to abrasive substances. For example, do not brush them with whitening toothpaste.
Do not use whitening kits. Whitening strips, gels, and trays are meant to be used on natural teeth. They are not effective for brightening dentures, and they have the potential to cause damage.
Do not use household products. Never use household cleaners, lemon juice, baking soda, or anything that contains chlorine while you are attempting to whiten your dentures. They could damage your prosthetic teeth or harm your oral tissues.
How to Whiten Dentures
Here are a few effective and safe ways to address mild denture stains:
Brush them with a soft toothbrush and minimally abrasive toothpaste. You can ask your dental team for product recommendations.
Soak them overnight. Be sure to use a manufacturer-approved cleaning solution.
Get it professionally cleaned. Your dental team has top-grade products and knows all the right techniques to remove most denture stains.
Keep in mind that if the discoloration on your dentures is particularly stubborn, you might need to get them replaced. If that happens to you, remember that acrylic teeth are more prone to incur stains than porcelain ones. Be sure to ask your dentist what materials will be used in the construction of your new prosthetic.
Preventing New Denture Stains
Here are some things you can do to reduce the occurrence of new denture stains:
Rinse your dentures often. This is extra-important after you consume anything that is highly pigmented, such as black tea, coffee, red sauce, or berries. It would also be wise to limit your overall intake of such items.
Stick an excellent oral hygiene routine. You should thoroughly brush your dentures each night, and you should store them in a cleansing solution or water whenever you are not wearing them.
Avoid tobacco products. Cigarette smoke and chewing tobacco can expose your prosthetic to highly staining substances, causing it to turn yellow.
Do you want to enjoy a bright, stain-free smile? The above advice can help you to keep your dentures as clean and beautiful as possible.
Meet the Practice
The talented dentists at Abington Family Dental Care are proud to offer denture design and maintenance. If you have questions about anything related to tooth replacement or your oral health, we are ready to welcome you into our modern, comfortable office. To learn more about how we may be able to serve you, contact us at 781-780-2658.