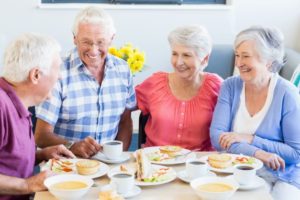 Eating is an act of survival, but it is much more than that. It can be an enjoyable, comforting experience. Meals can also bring people together and strengthen social bonds. You should be able to fully experience every bite you consume! Sadly, though, if you have dentures, you might have found that your sense of taste has changed. What can cause this issue? Is there anything you can do about it? Continue reading below to learn more about the connection between dentures and taste in Abington.
Dentures and Taste
As humans grow older, it is normal for their senses to become somewhat dulled. That includes the sense of taste. In fact, flavor sensitivity may be 49 times lower in elderly individuals than it is in younger individuals. Therefore, it is important to note that in some cases, the loss of taste that is often blamed on dentures may be unrelated to the prosthetic teeth. Rather, it is a normal consequence of aging.
However, in other instances, dentures are to blame for changes in taste. This can happen for a few different reasons:
Upper dentures cover some taste buds. The majority of your taste buds are on your tongue. However, there are also some on the roof of the mouth. Unfortunately, upper dentures can block those taste receptors, leading to changes in the way you experience food.
Adhesive residue. If your dentures do not fit properly, you might end up using more adhesive than recommended. A buildup of adhesive on your prosthetic can create a metallic taste in your mouth.
Food buildup. If you fail to thoroughly clean your dentures every night, bacteria and food particles can accumulate on them. Those particles may interfere with your ability to enjoy your snacks and meals.
What You Can Do
Here are a few suggestions that might help you to regain an accurate sense of taste:
Thoroughly clean your dentures. If you are unsure about the best products and techniques to clean your prosthetic, ask your dentist or dental hygienist for guidance. For most people, thoroughly brushing their denture each night, along with regularly soaking it in a mild cleaning solution, is enough to keep it functional and fresh.
Ask about a reline. If you have been using extra adhesive lately, ask your dentist if your dentures can be adjusted (relined). However, if the fit of your prosthetic has changed too much, you might need to replace it altogether.
Consider upgrading to implant dentures. Implant dentures are anchored in the mouth via prosthetic tooth roots, so there is no need for them to cover the roof of your mouth. They are also extremely stable and can allow you to eat a wide variety of foods.
Dentures can adversely affect your eating experience. The good news is that there are some steps you can take to restore your ability to enjoy your favorite foods.
Meet the Practice
Abington Family Dental Care is home to a number of skilled dentists, all of whom want patients to have an enjoyable, comfortable experience in our office. We proudly offer conventional dentures, implant dentures, and denture maintenance. To learn more about how we may be able to serve you, contact us at 781-780-2658.