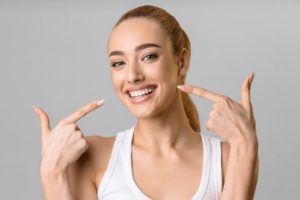 Your smile plays a major role in how people perceive you. In fact, it is one of the first things they notice! The better it looks, the greater confidence you can have. But what if your teeth have some aesthetic imperfections? Your cosmetic dentist can help. They might recommend that you invest in veneers. How might this treatment benefit you? This blog post explains five reasons to consider getting veneers.
Reason #1: Veneers Can Powerfully Transform Your Look
Veneers have the potential to powerfully transform your smile. They can hide a wide range of flaws, including:
Stains and discoloration
Chips and cracks
Small gaps between the teeth
Minor misalignment
Asymmetrical teeth
Teeth that are too small
And more!
Reason #2: Veneers Take Just a Few Appointments to Install
The veneers treatment process can be completed in a matter of weeks. At your first appointment, your cosmetic dentist will confirm that you are a good candidate for the procedure before they begin planning your new look. If you are aiming for something specific — for example, if you want your teeth to be a particular shape or color — let your dentist know.
After your teeth are prepared to support your veneers, you will wear temporary veneers while a laboratory fabricates your permanent ones. Once they are ready, your dentist will verify that they meet expectations before attaching them to your teeth.
Reason #3: Veneers Are a Great Monetary Value
The upfront price of veneers might seem a little steep. In fact, you may have to pay several thousand dollars for your start-to-finish treatment. However, veneers are an excellent value and a smart use of funds.
Not only can they give you a beautiful smile, but they also offer results that can last for decades. They usually endure for at least 10 – 15 years. Some patients have even gotten 30 years or longer out of their veneers.
Reason #4: Veneers Are Easy to Care For
Caring well for your veneers should not require you to make any huge changes to your oral care routine. In many ways, you can treat them just like natural teeth. For example, you should limit hard and sticky foods, regularly visit your dentist, and adhere to a thorough oral hygiene routine. It would also be smart to avoid smoking and enjoy alcoholic beverages only in moderation.
Reason #5: Veneers Can Support Your Professional and Personal Success
A confident, attractive smile can do more than just make you look good. It could make others perceive you as being successful, approachable, and healthy. When people see such traits in you, you may have greater opportunities for personal and professional success.
Veneers are a wonderful cosmetic treatment. You have plenty of reasons to consider getting them!
Meet the Practice
The general dentists and specialists at Abington Family Dental Care are proud to provide a range of cosmetic treatments, including dental veneers, in a positive and welcoming environment. If you would like to improve the look of your smile, we are ready to answer your questions and get you on the road to your dream look. Contact our office at 781-780-2658.